I've had D-ring albums for years and years. I have loved them for their simplicity of use. However, we downsized and main level storage is tight in this house. I don't want to store my albums downstairs in our basement–it isn't finished and we have had moisture issues before.
So if I want to continue to store my albums upstairs, I need to start rethinking the size of my albums. The conclusion I've reached is that I need to switch any complete–or at least full–D-ring albums to post bound. First, of all, a comparison of the two. Here is a D-Ring type album:
The pages stack up on the vertical straight line part of the "D" and as you turn them to look through them, they flip over the rounded part. This results in about a one-inch gap in between the pages as you look through the album. They typically come with 10 page protectors (which would hold 20 scrapbook pages), but I can generally fit 20-23 page protectors (or 40-46 scrapbook pages) in each. The D-rings open just like a 3-ring binder like you used in school, and so it is very easy to add, remove, and rearrange pages.
By contrast, a post bound album holds pages a little differently. Here is a picture of the spine of a post bound album:
Pages in a post bound album are held in place by posts, which are screwed down tightly and covered by chipboard flaps. This method squeezes the pages close together, and when viewing the album, there is no gap between pages. However, to add, remove, or rearrange pages, you have to hold open the flaps, loosen the screws, and pull out each post individually. This is a messy, time-consuming process (at least for me!). Generally, scrapbook albums come with 1/2″-1″ screw extension posts, and hold 10 page protectors.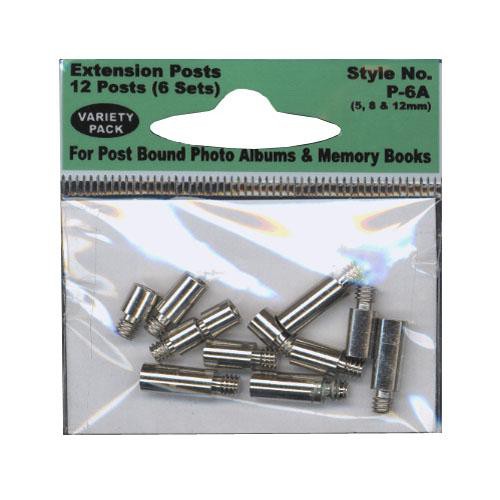 Extension posts come in a variety of lengths and just attach together, so you can add more posts, which means the album will hold more page protectors. Albums come with material to cover the spine if you do choose to extend it like that. However, again, doing this is messy if you already have layouts in the page protectors. The job is infinitely easier if you add all the page protectors you want to an album before you add the completed scrapbook pages.
So. My current plan is to move my pages from D-ring albums into post bound albums that I will set up with longer posts and extra page protectors before filling them. Even with only using 20-23 page protectors, similar to the quantity I fit in a D-ring album currently, I can save 1-2″ of space for each album, since they are held together so tightly by the spine of the post bound album. It should cut down my current storage needs by half, meaning I can fill that space with new albums over the next 20 years of scrapping!
But wait! I currently have over 24 albums, so I am planning on purchasing at least 24 post bound albums to replace them. That's going to be expensive! So to be frugal, I'm looking for sales and am planning to buy a few every time they go on sale. Cloth is cheapest, so that is what I'm choosing. I can get those for about $10 each, with decent shipping (around $2-5/order).
I would like them to be a uniform size and color as much as possible, so the majority of them will be 12″ x 12″, black–no more clashing colors, patterns, and materials, even though there are plenty of pretty albums out there. I prefer the more minimal solid look, and can easily label my albums (another post coming on that…!). It is going to take me awhile to buy the replacements (and I will want to buy new ones as I need them), so I am going with a brand that has been around for quite awhile–Pioneer albums. They also carry 8 1/2″ x 11″ albums (which is yet another post for some time 😉), something I am also planning on purchasing.
Lastly, I am working to avoid over consumption and consumerism in all areas of my life. So how does that apply here? I am planning on selling or giving away each and every D-ring album to someone who will be able to use them. My first choice will be to offer them at low to no cost locally. My back-up plan is to offer for free, just pay shipping, to online scrapbooking friends. If all else fails, I'll sell them in my Etsy, Crafts Collaborative, where I sell secondhand craft supplies, or I will give to Make and Mend, who do the same thing but on a much larger scale! At all costs, I want to avoid 1) throwing them away, or 2) clogging up an already overwhelmed thrift shop where they have a high probability of languishing, unlikely to be found by scrapbookers who would use them.
So, what do you think? Is my plan doable? I'll keep y'all updated. ;)